Yes. You read that right. I've never made stuffed shells. The closest I came was a few weeks ago when I watched
Alanna
make them. And I don't think watching someone cook is the same as cooking ;)
This time, I'm actually going to share my recipe. I found
one on AllRecipes
to use, but I tweaked it a bit, so I'll just share what I did. :)
------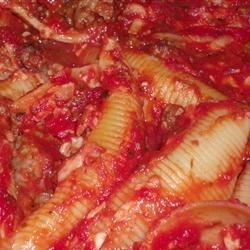 26 uncooked jumbo pasta shells
1 pound ground beef
1/2 cup chopped onion
1 garlic clove, minced
2 (15 ounce) cans tomato sauce
1 (15 ounce) can Italian-style diced tomatoes, well drained
2 teaspoons dried oregano, divided
1/2 teaspoon dried basil
Brown sugar
(I'm not sure how much. My hand slipped. LOL. Maybe 1/8 cup?)
2 eggs, lightly beaten
3 cups small curd cottage cheese
3 cups shredded mozzarella cheese, divided
1/2 cup grated Parmesan cheese
1/2 teaspoon seasoned salt
It should be noted that for the onion and garlic, I used minced onion and minced garlic from the jar. The packaging of these items has directions for equivalence and I'm perfectly happy with using these as a substitute for fresh.
Directions:
Cook pasta shells al dente according to package directions.
Meanwhile, in a skillet, cook the beef, onion and garlic over medium heat until meat is no longer pink; drain. Stir in the tomato sauce, tomatoes, 1 teaspoon oregano, basil, and brown sugar. Bring to a boil. Reduce heat; simmer, uncovered, for 15 minutes.

In a large bowl, combine the eggs, cottage cheese, 2 cups of mozzarella cheese, Parmesan cheese, seasoned salt and remaining oregano. Drain pasta shells; cool slightly.

Spread 1-2 cups of meat sauce into a 11-in. x 7-in. x 2-in. baking dish. Stuff shells with cheese mixture and arrange in dish. Pour remaining meat sauce over the shells.
Pour remaining meat sauce over the shells. Sprinkle remaining mozzarella on top. Cover and bake at 350 degrees F for 40-50 minutes or until a thermometer reads 160 degrees F. About five minutes before pulling out of the oven, remove foil.
-----
This was a very easy meal. I did end up with a bunch of dishes to wash though. Pot, pan, mixing bowl, and casserole dish. My poor crappy dishwasher can't handle that! LOL. :)
We LOVED it. This was the first time I remembered to put brown sugar in the meat sauce. It neutralizes the acid which is good if you have heartburn. Also, it adds a bit of sweetness which I like. :)
This was just a good, homey meal. I served it with our favorite garlic bread--the kind from the bakery section in the silver bag. If you see it at your grocery store, get it. Soooo yummy! Mike loved it. One bite and he was all "Mmmm...."
This meal is also good the next day. I just had it AGAIN for dinner and it was still yummy! :)
My mom told me time and time again that the way to a man's heart is through his stomach. It's so true. I love cooking for my dear husband because every time I do, he loves it. I love that he loves it because he showers me (and my cooking) with praise. Which encourages me to try bigger and better things for him. It's a nice cycle.
In addition to Tasty Tuesday, I was quite the domestic goddess this weekend. I made breakfast on Saturday and Sunday. Saturday, I woke up wanting waffles. But we don't have a baking mix, so I made waffles from scratch. And they were so yummy! On Sunday, I made eggs, toast, and blueberry muffins. :)